Sun River Yoga Retreat
May 21-24, 2021 & June 25-28, 2021
Celebrate summer at the edge of a wild river surrounded by mountains, canyons, forests and nature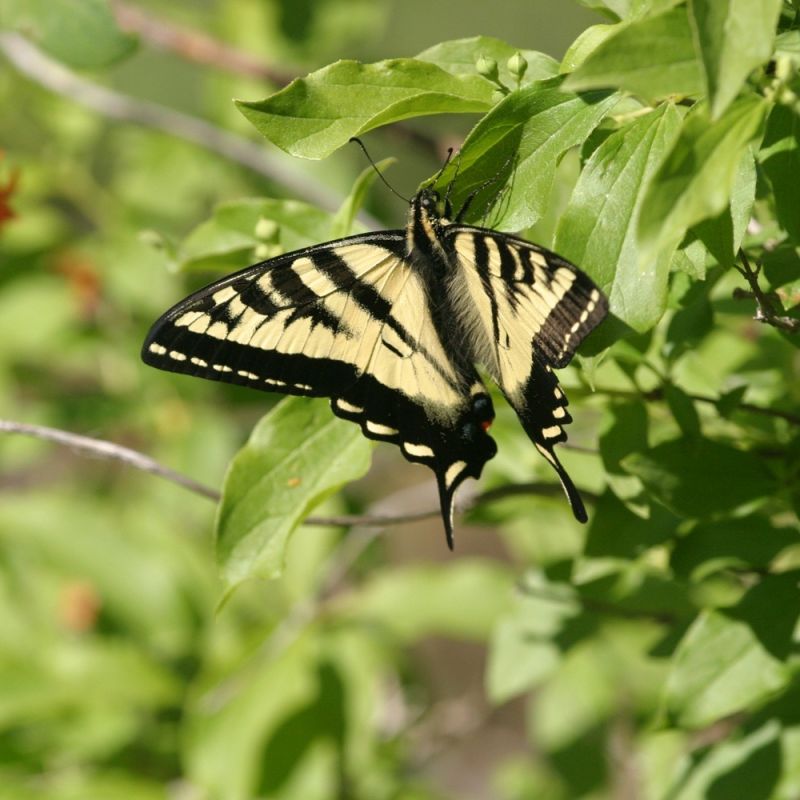 Sun River Retreat Hosts
Daniel Eby

As a rock climbing, surfing, ski and snowboard enthusiast, Daniel has a deep passion for the outdoors and being present in the moment. However, he has always struggled with anxiety and finding peace of mind. It wasn't until his first yoga class in 2008 that he felt more calm and light. He quickly devoted himself to a consistent practice where he discovered the power and ease in movement through conscious breath. A passion for yoga grew with his discovery that it begins within each individual and extends outward to positively impact the greater community by providing a means to connect with others.



His love for gardening has revealed that seeds require fertile ground, positive attention and intention to bear bountifully. Similarly the yoga class serves as fertile ground, for students to focus their attention on planting seeds of intention to both heal and grow physically, mentally and spiritually. Daniel has now been teaching yoga for 9 years and has extended his work in Pilates and Group Fitness.



Crystal

Crystal became interested in Pilates when she learned she could use it to rehab herself from injuries she had incurred. She was marvelled of how simple functional movement could make such and apparent difference in her body's natural alignment. She became a teacher hoping to spread this healing knowledge onto others. She loves to share Pilates because it is excellent for building longer, leaner, muscles and correct posture. Pilates can teach healthy movement patterns in the mind and body and to enhance exercise performance and functional mobility. She feels blessed to offer Pilates and Fitness as methods to bring the body into better alignment while offering techniques to strengthen and distress the body through movement and breath.
4 Day Sun River Retreat Includes:

Glamping - 3 nights in a river's edge glamping tent




Yoga - up to 13 yoga & wellness sessions




Guided Hike - 1 guided hike (1 hour return)





Dining - 8 home-style meals with beverages & dessert




Resort - Access to all of the resort facilities



Choose 1:

Rafting - 1 whitewater rafting trip





Massage - 1 hour full-body massage





Scenic Float - 1 scenic float trip (calm, relaxing)





Waterfall Hike - Hike into Mehatl Falls (8km roundtrip)


Resort Highlights

Private Beach




Star Gazing Stage




Nightly Campfires




Relaxing Hot Tub




Hammock Garden





Bonus:

Social Hour


Complementary wine, cider, & appetizers served on Saturday evening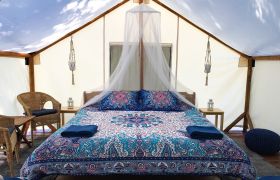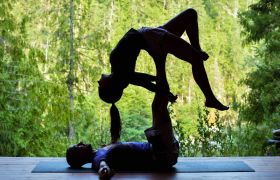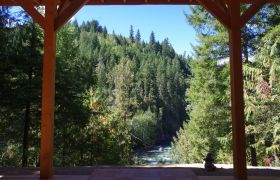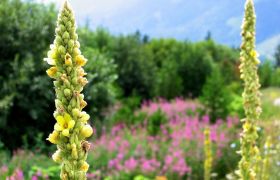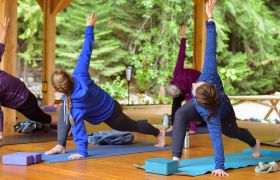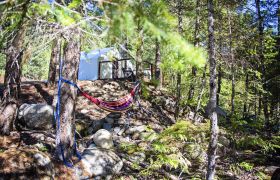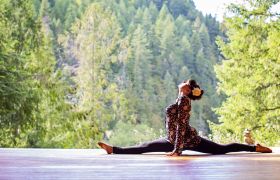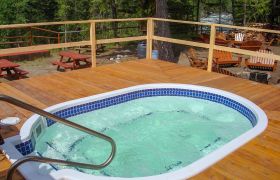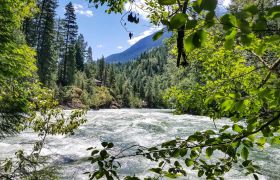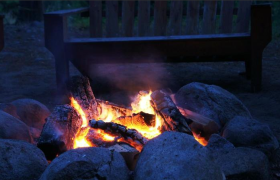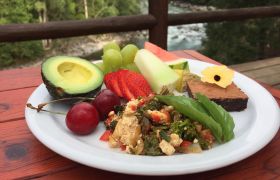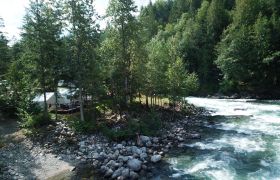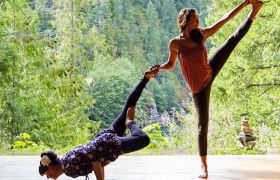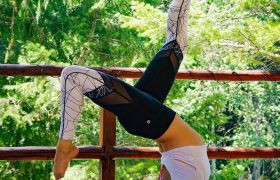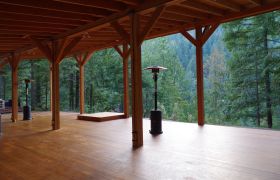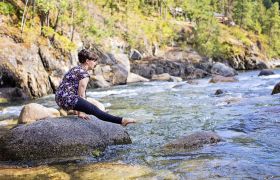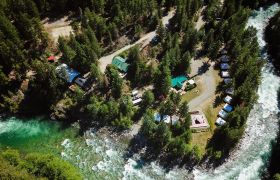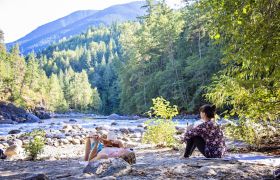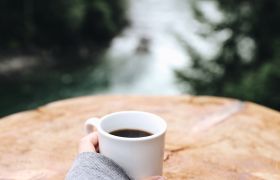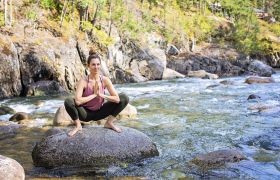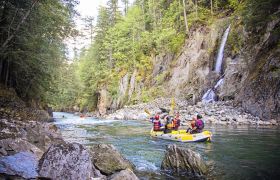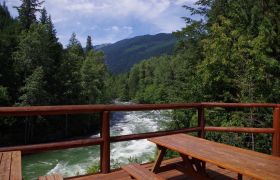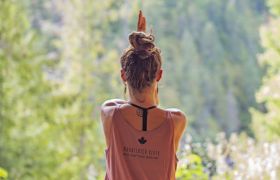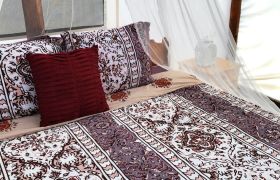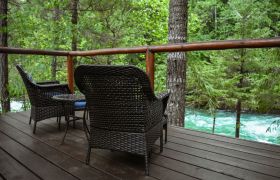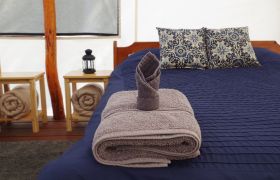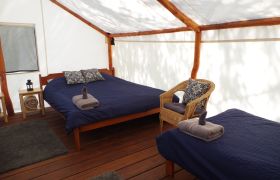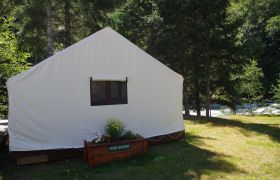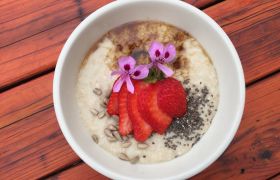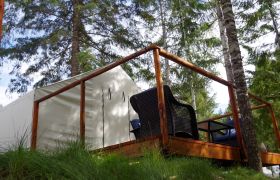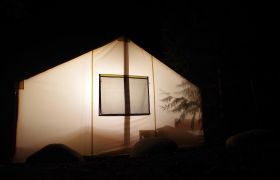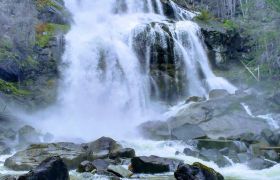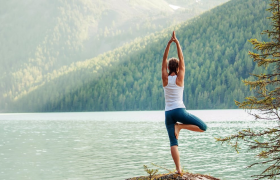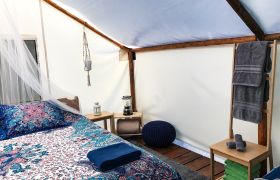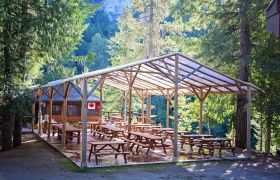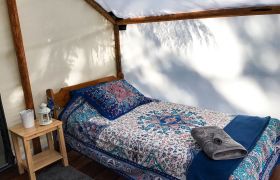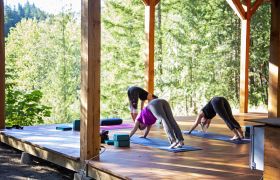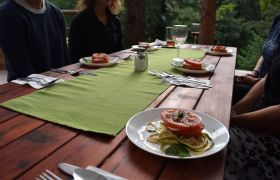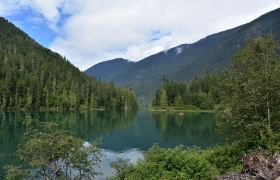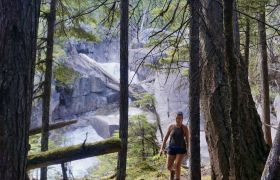 Interested in lake kayaking or archery? Add them to your package.
View all the activities we offer here



Lake Kayak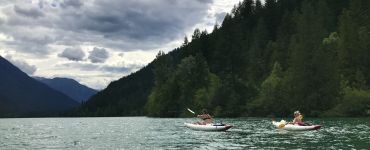 Archery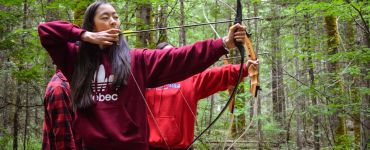 Itinerary
Arrival Day



3:00pm - Arrival
4:30pm - World Yoga
5:45 pm - Yoga Pilates Fusion
7:15pm - Dinner
8:45pm - Yin Yoga



7:30am - Morning Yoga
8:30am - Breakfast
10:45am - Pilates
11:00am -

Free Time


1:15pm - Lunch
4:30pm - All Levels Yoga
6:15pm - Social Hour
7:15pm - Dinner
9:00pm -

Campfire & Hot Tub

7:30am - Morning Yoga
8:30am - Breakfast
10:30am - Guided Hike
12:00pm -

Gentle Flow


1:15pm - Lunch
4:30pm - All Levels Yoga
5:45pm - Pilates
7:15pm - Dinner
9:00pm - Deep Stretch


Departure Day



7:30am - Morning Yoga
8:30am - Breakfast
10:00am - World Yoga with Dan
10:45am - Closing circle
11:00am - Departure


Dates Available
This retreat runs on 2 specific date ranges; May 21-24, 2021 & June 25-28, 2021. You can book this retreat on either of those dates while there is availability.
Rates
Sale ends Feb 15, 2021. All prices are per person. Groups = How many people in one tent.
| | | | | |
| --- | --- | --- | --- | --- |
| Groups of 2 | | Groups of 3 | | Groups of 4 |
Singles



Choose a private tent for 1 or a private bed in a shared unit.
| | | | | |
| --- | --- | --- | --- | --- |
| Single Occupancy (Private) | | Shared Tent | | *Up to 4 like-minded guests will be assigned to a shared tent |
Fine Print

We are open May 14 - September 14, 2021.
The above rates are per person based on the group size staying in one glamping tent. 10% taxes & fees added at checkout.
Due to Covid-19, the deposit required to confirm your booking has now been reduced to 15% with the balance due 15 days prior to arrival.
If you cancel 15+ days in advance, the 15% deposit will convert to a credit voucher valid until August 1, 2023.




Email now to book

Questions?

Call 1-800-736-7238 or email bookings
Add-on Activity List
Whitewater Rafting


Experience the adventure of a lifetime by going whitewater rafting on the best river's in BC.

Scenic Float Trip



Relax and unwind as you float down the river with amazing scenery in view.

Massage


Take relaxation to a new level with an hour long full-body massage.


Mehatl Hike



Hike to the amazing Mehatl Waterfalls. The hike is 8km roundtrip. Check availability.

Lake Kayaking



Kayak on the beautiful lakes that feed the Nahatlatch river. Min. 3 people

Paddleboarding


Paddleboard on scenic lakes and test your balance! Min. 3 people


Archery



Trek into the wilderness and test your aim at our forested archery area. Min 2 people


Cliff Jump



For some more excitement, jump into the Nahatlatch river!
Min. 2 people

*We recommend booking your activities in advance to guarantee availability and to receive your itinerary upon arrival.
Our Social Hour is proudly sponsored by Wards Cider & SPARKMOUTH