REO Songwriters Retreat
August, 2021 TBA
Our 21st Annual Songwriters Retreat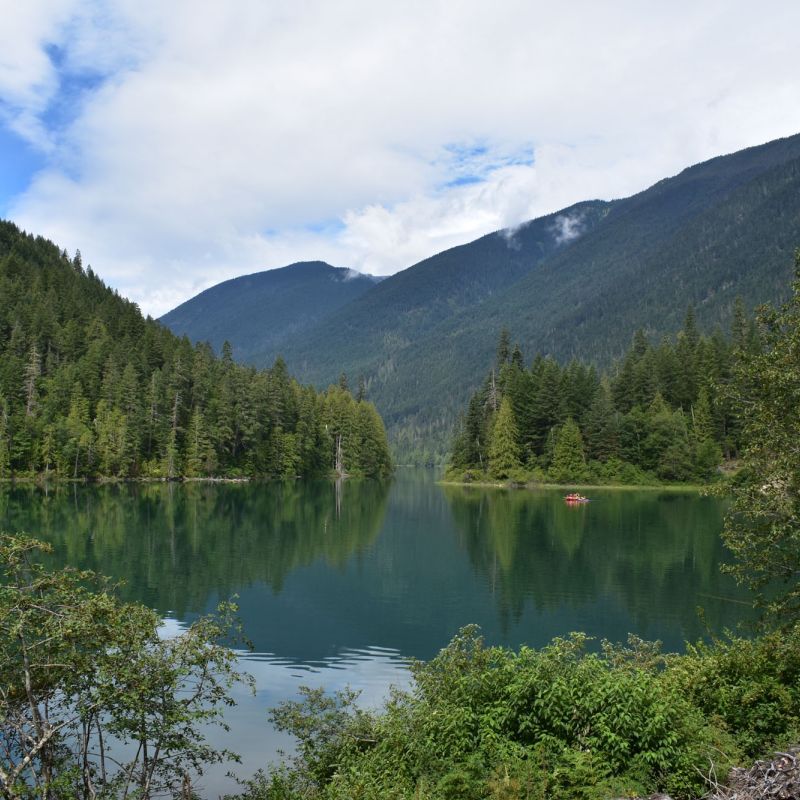 Jason Blume


This retreat is a wonderful and rare opportunity to study with -- and be mentored by -- Jason Blume, who is widely regarded as one of the top songwriting instructors in the world. Jason has taught for Berklee College of Music, Liverpool Institute for Performing Arts (founded by Sir Paul McCartney), and in over 13 countries. He has taught the BMI Nashville Songwriters' Workshops for 25 years, and six of his students have written #1 singles, while countless others have signed publishing and music licensing deals. Jason will be paired with Jeremy Bircher, who has achieved extraordinary success in licensing his songs for TV and film. Jeremy will share his exceptional experience and insight into the craft and business of writing songs for television, film, and advertising. Additionally, he will share exercises and techniques to access your deepest levels of creativity, go beyond your limitations, and free the songs that are waiting inside you.

During daily masterclass sessions, Jason Blume will teach specific lyric and melodic techniques that contribute to successful songs in multiple genres. You will begin songs that incorporate these tools and receive constructive feedback and guidance from your instructors to bring these songs to completion.

And for those new to Jeremy, he is an international hit songwriter, film director and serial creative entrepreneur. He has worked with some of the largest commercial brands in the world including Apple, Facebook, Coca-Cola, Microsoft, McDonalds, Nike, Adobe, Lyft, T-Mobile and Canon. Jeremy co-wrote Coca-Cola's global theme song "Taste the Feeling".

Unplug with Jason Blume and Jeremy Bircher in an intimate, stunning wilderness setting, and give yourself the gift of taking your writing and creativity to where it was meant to be. But be forewarned:Your Songs Will Never Be the Same!



Absolutely Incredible and Inspiring Experience!
★★★★★
"I can't say enough about how amazing the songwriting retreat was at REO. So much talent and creativity. Fantastic people creating together everyday in the most gorgeous setting you could imagine!"
Gsilverakag

All-Inclusive Songwriting Retreat Package
6 days of songwriting workshops & master classes with Jason and Jeremy
Low instructor-to-student ratio enhances intimacy & learning
Intensive co-writing sessions with songwriters under the auspices of our hit writers & mentors
Get valuable feedback from our mentors on daily writing sessions
Meet and write with an international group of songwriters

Social hour with wine, craft cider & beer, appetizers (daily at 6:30 pm)
Morning yoga, guided canyon hike, nature trails, private beach
Discounted whitewater rafting trip - the ultimate!
4 nights in our river's edge glamping tents (double, queen and king bed options) or camp in own tent
12 delicious meals, beverages, desserts & snacks. Vegan, dairy-free & GF options available.
Rates
(All-inclusive of tuition, lodging, meals, social hours, yoga & more)
All prices are per person. Sale ends June 1, 2021
*Due to Covid-19, deposits required to confirm your booking have now been reduced to 15% with the balance due 7 days prior to arrival.
*If you cancel 7+ days in advance, the 15% deposit will convert to a credit voucher valid until August 1, 2022. View our updated cancellation policy linked below.
| | | |
| --- | --- | --- |
| 4-share Glamping Tent (share, same gender) | | Private 3-Share Glamping Tent |
| | | |
| --- | --- | --- |
| Private 2-share Glamping Tent | | Private Single Glamping Tent |
| | | |
| --- | --- | --- |
| Spouse/Partner/Friend (non-songwriter) | | Camping/RV - Call or Email to Book |
Lux King Bed Tent Upgrade: Add to Single Occ

| | |
| --- | --- |
| 2-Share Upgrade (PP) | Single Occ. Upgrade |
| $100 | $200 |


Retreat Contact: Bryan Fogelman
Call 604-307-3122 or email Bryan
For Reservations: 1-800-736-7238
Add-ons

Whitewater Rafting

Choose Wed Aug 26 or Mon Aug 31

Shuttle - Vancouver to REO

Depart YVR @ 12:30 pm, arrive 4 pm

Shuttle - REO to Vancouver

Depart REO @ 1:30 pm, arrive 5 pm
All prices are per person (PP). Add 10% taxes & fees. USD prices based on current exchange rates. Trip locations may change due to water levels.
Questions? Call 604.941.9777 or 1.800.736.7238
or
email bookings
|
Cancellation Policy
Questions? Email us!
Bookings@reorafting.com

2021 Songwriting Mentors
Jason Blume

Jason Blume's songs are on three Grammy-nominated albums and have sold more than 50 million copies. One of only a few writers to ever have songs on Billboard's pop, country, and R&B charts, all at the same time--his songs have been recorded by diverse artists including Britney Spears, the Backstreet Boys, the Gipsy Kings, Jesse McCartney, the Nashville Chamber Orchestra, and international stars such as Christian Ingebrigtsen, Tomohisa Yamashita (#1 EP), Hi-5 (winners of Greek Idol, certified "platinum"), as well as country music stars including Collin Raye (6 cuts), the Oak Ridge Boys, Steve Azar, and John Berry ("Change My Mind," a top 5 single that earned a BMI "Million-Aire" Award for garnering more than one million airplays). Jason had three top-10 singles with Dutch star BYentl—all certified "Gold" in the Netherlands— including a #1 on the iTunes R&B chart.

His songs have been included in films and television shows including "Scrubs," "Friday Night Lights," "Assassination Games," Disney's "Kim Possible" and "First Kid," MTV's "Next Big Thing," "Teen Mom," and "Taking the Stage," "MVP," "The Dating Guy," "Barbie of Swan Lake," "Dangerous Minds," "Kickin' it Old Skool," "Fame," "Swimming With the Fishes," "The Guiding Light," "The Miss America Pageant," "Frog and Toad Are Friends," and many more. He shares an Emmy Award and an additional nomination for his musical contributions to episodes of PBS' "Frontline."

Jason Blume is the author of 6 Steps to Songwriting Success: The
Comprehensive Guide to Writing and Marketing Hit Songs, This Business of Songwriting, and Inside Songwriting: Getting to the Heart of Creativity, (all published by Billboard Books/Random House). He produced and narrates a 4-part instructional audio CD series. When he is not writing hit songs he teaches others how to do so. Widely acknowledged as one of the world's top songwriting instructors, Blume developed and teaches the BMI Nashville Songwriters workshops. He presented an acclaimed master class at the Liverpool Institute for Performing Arts (founded by Sir Paul McCartney) and teaches workshops for Berklee College of Music, as well as at conferences, colleges, and universities throughout the U.S. and in countries including Australia, New Zealand, Norway, Ireland, the U.K., Canada, Bermuda, and Jamaica. Recognized as an expert in the field of songwriting, Blume has been interviewed as a songwriting expert for media outlets including CNN, NPR Boston, and the New York Times. For information about his workshops, webinars, additional articles, and more, visit

www.jasonblume.com

.

Jeremy Bircher

Jeremy Bircher

-

Jeremy is an international hit songwriter, film director and serial creative entrepreneur. He has worked with some of the largest commercial brands in the world including Apple, Facebook, Coca-Cola, Microsoft, McDonalds, Nike, Adobe, Lyft, T-Mobile and Canon. Jeremy co-wrote Coca-Cola's global theme song "Taste the Feeling" in their biggest re-brand since 1971 ultimately becoming the most widely distributed ad song ever reaching 4.2+ billion listeners. As a filmmaker, he was on Mark Zuckerberg's editing team, and he has worked with Arthur Brooks, Jane Goodall and Jewel. As a designer and technologist, he has been brought on by the MLB and Intel to design the future of sports playback. He has served as technical director and post production supervisor for international events and conferences for Facebook, Samsung, WPPI and Instagram. His work in film has garnered international acclaim, winning multiple film festivals. Meanwhile, his creativity incubators and masterminds for entrepreneurs have left audiences and participants inspired, clear and purpose driven.



Our New Retreat Center

REO's new retreat center overlooks the jade-green Nahatlatch River and offers amazing canyon, forest and mountain views. The retreat center features a 2,000 sf covered events space and 10 adjacent glamping tents, all with river's edge decks.



Check out these pictures from previous songwriting retreats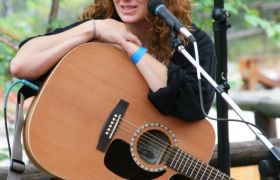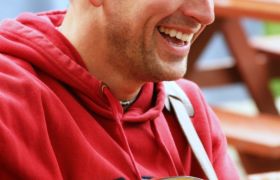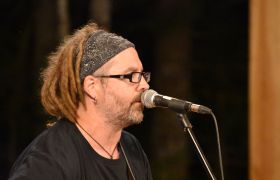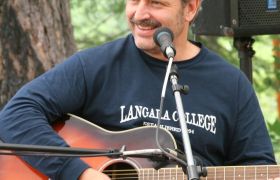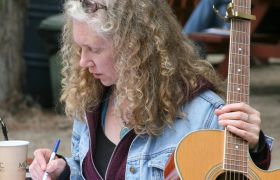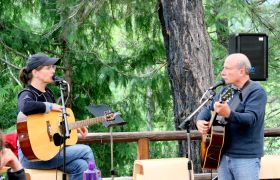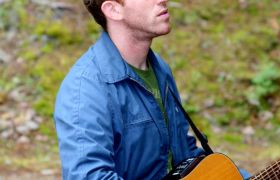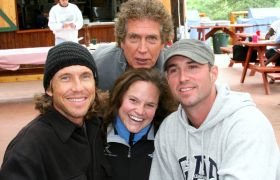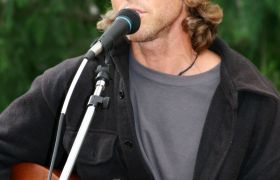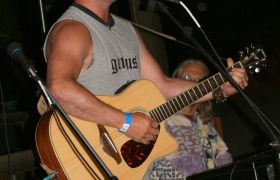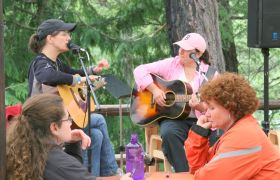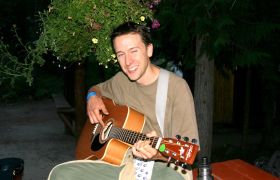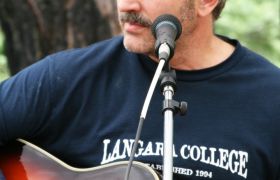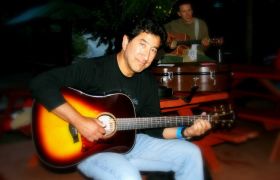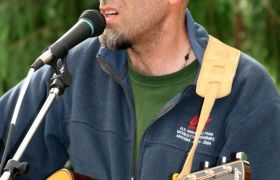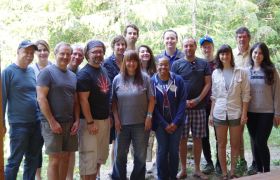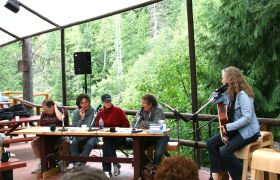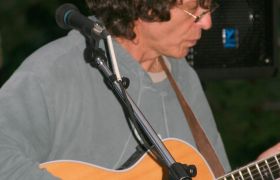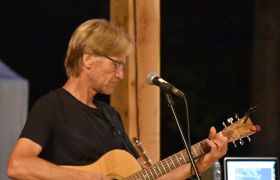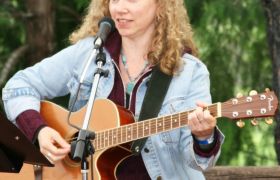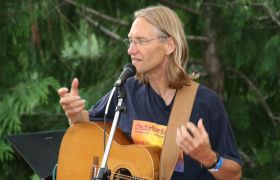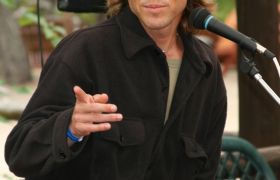 Retreat Information
Airport Shuttle

Vancouver International (YVR) is the best gateway for flights. REO offers an optional shuttle departure from YVR airport at 12 Noon on Sunday June 30, 2020

Car Share Rides / Rentals

We can help arrange car share rides with other songwriters. Car rentals from Vancouver (YVR, 3 hours to REO) and Abbotsford (YXX, 2 hours to REO).
Retreat Start Time

Check in begins at 4 pm on Sunday June 20. Our keynote presentation and first social hour begins at 6 pm with craft, beer and cider, BC wine and appetizers. All meals are included in your retreat package from Sunday dinner to Friday breakfast.

End time & Departure

We will meet at 10 am on Friday to share final thoughts, take photos, and follow up on our song presentations. Check out time is 11 am. Our shuttle to Vancouver leaves at 11 am; we recommend flight departures after 4 pm.
Pre and Post Retreat Extensions

A retreat extension is a popular add-on to enjoy our beautiful wilderness resort. Great for long-haul travelers to unwind before or after. Rates range from

$149

-

$299

CAD pp per night with lodging and 2 meals. Please call for details on all of our amazing pre and post-retreat package options.




Retreat Organizer

Bryan Fogelman has organized and hosted the REO retreat for the past 20 years and has learned from many of the best songwriting mentors in the world. Bryan started Blue Crush Music Ltd as a mini-label and artist development company in 2019. In addition to his own songs, Bryan is writing and producing songs with Bo Henrik, Niclas Steinkamp, North Easton, Adam Buckingham and other Canadian and international artists.



---
REO Songwriter Retreat Instructor Alumni
Marty Dodson (2015-17; 2019)
Co-Founder, SongTown


Clay Mills (2015-16; 2019*)
Co-Founder, SongTown

Jason Blume (2013-14, 2020)


The Business of Songwriting



Bonnie Hayes (2012, 2018)
Chair, Berklee College of Music

Deborah Holland (2018)
Director, Langara College




Jason Duke (2017)




Karen Taylor-Good (2013)


Pat Pattison (1998-2012)


Don Osborn (2011-12)




Steve Leslie (2012)




Clare McLeod (2012)